1、About PSE Mark
2、PSE Application process
3、PSE Mark classification
4、TOS advantage
1、 About PSE Mark
The Safety Law of Electrical Appliances of Japan divides electrical appliances into 2 groups, namely compulsory(specific) certification products(115 designated products), which uses diamond mark certification and voluntary(non-specific) certification products, which uses round mark and is also DOC of PSE certification.
At present, according to the regulation of Electrical Appliances Safety Law of Japan, the Japanese government classifies electrical appliances into Specific Electrical Appliances and Non-specific Electrical Appliances. Specific Electrical Appliances include 115 products, and Non-specific Electrical Appliances include 339 products.
Japan has a great potential market for electrical products and consumers in Japan also attach great importance on the safety of electrical products. Since April 1st, 2001, DENTORI of Japan was renamed as DENAE. PSE mark is used united and punitive measures against importers are strengthened. Safety and EMC requirements are included in PSE. Certification model of PSE is: Type Test+ Preliminary Factory Inspection+ Surveillance after the certificate is issued.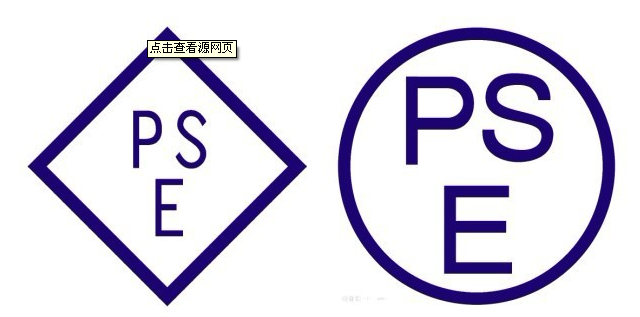 2、PSE Application process
1、Inquiry specifications:offering the basic certification information,including the circuit diagram,the rating photo,the difference and so on.
2、the inquiry to JET.the price to apply for the test within the japanese electrical safety law ,about 35 yen ,is more expensive than the IEC,and it needs 6weeks.
3、The signature.tell the customer the documents and qualities of sample should prepared.
A. Application Form (PSE-RE-301)
B. Application for conformity Assessment.
C. List of factory (PSE-RE-302:)
D. Confirmation sheet of Address (PSE-RE-303)
E. Power of Attorney (PSE-RE-304:)
F. Type of Classification List.
G. Structune, Material and Function of a testing sample.
H. Technical information (Component List, Circuit Diagram, drawing of product photos, Enclosure material ……) Marking label.
I. List of inspection Facilities (if need FI)
J. A map goes to the manufacture (if need FI)
K. How to deal with tested samples.
4、Note:the items from1to9 must be filled
5、It takes 3-4weeks for JET test
6、JET publish the PSE certificate and the PSE report
7、Send the bill so that TOS can make an arrangement of the payment
8、Get the certificate
3、PSE Mark classification
nSpecific Electrical Appliances
Products in the category of Specific Electrical Appliances shall get the certification of a third-party certification body authorized by JETI and get the certificate with PSE Diamond Mark on the label.

nNon-specific Electrical Appliances
Products outside the category of Specific Electrical Appliances belong to Non-specific Electrical Appliances. For non-specific electrical appliances which have entered into the Japanese market, enterprises declare that the products comply with the DENAE through independent statement. Manufacturers are obliged to keep test results and certificates. Round PSE mark must be affixed in the labels of products.
4、TOS advantage
TOS and TET, JQA, TUV Rheinland etc., have good relations of cooperation, can provide our clients withefficient high-quality PSE Mark certification services, saving you significant time and money.